I came up with this recipe long before I couldn't have gluten. I wanted some yummy beans, but I didn't want to use ham. Years ago, I had a friend who made chili with olives in it and he included the liquid, so I decided to try it. I have always made this soup with navy beans, but I was out of them the other day, so I went with limas instead and they worked really well.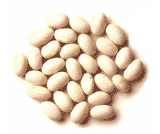 Navy beans
I enjoy the name of this recipe, because it always gets interesting responses from people when they hear it. This time around, my friend Judy said that when she heard the name she envisioned a creamy soup, but she didn't see how that could be since I can't have dairy. The White part is from the beans, the Olive part is from the olives. :)
Just looking at the picture makes me hungry!
No Gluten, No Dairy, No Eggs,
No Soy, No Kidding
2 cups of dry navy or lima beans,
soaked in water overnight &
drained
1 pound of stew meat, thawed &
cooked through
1 - 16 ounce can of black olives,
chopped, reserve liquid
1 medium to large yellow onion,
chopped
2-3 stalks of celery, sliced
Dried parsley, garlic powder, salt,
& paprika, all to taste
Place the pre-soaked, drained beans in a kettle. Add the pre-cooked stew meat, the olives, the liquid from the olives, the chopped onions and the celery slices. Add enough water to come above the ingredients about an inch and a half. Season to taste. Over a medium to medium-high heat (depending on the heat your kettle can handle) bring to a strong boil, cover pan, and reduce heat enough to keep it boiling, but not boiling over,
Concerning the seasonings, if you have read my blog for long, you know that I cook using the Aunt Lorena method. Start out with a few shakes or so, and then before you are ready to serve the dish, taste some to see if it has enough seasoning and if it doesn't, add more. Your confidence with this method will increase as you use it. Just remember to start out with smaller amounts so you don't have to add more beans, or whatever, to lessen the affect of overdoing it. And speaking of overdoing it. I ate two bowls the other night and it was too much food. Proceed with caution...